UAS (Unmanned Aircraft Systems) – drones
This page contains list of relevant information for UAS (drone) operations in the airspace of the Czech Republic.
---
DronView - web application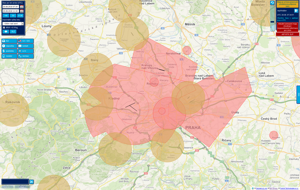 Special module of the AisView web application, a practical tool for preflight preparation provided by AIM ANS CR, intended for unmanned aircraft (UAS, drones) operators.
DronView is useful for getting yourselves familiar with the structure of the airspace of the Czech Republic and for flight planning in those parts of the airspace that permit unmanned aircraft operations.
Apart from guaranteed information regarding the airspace structure and it's planned usage the application can display complex data intended for civil aviation needs, including meteorological data.
When using the application, please pay attention to the following:
appropriate settings of the filters regarding intended flight altitude and umanned aircraft weight (these settings have impact on applicability of operational limitations)
correct values and interpretation of altitudes (AGL – altitude above ground, AMSL – altitude above mean sea level)
correct settings or interpretation of time of the flight or series of flights (time is in UTC – universal coordinated time)
WARNING: Under no circumstances can the information obtained using DronView replace a flight permit issued by the Civil Aviation Authority
Terms of use of the AisView application
---
Aeronautical regulation L2 – supplement X
lis.rlp.cz/predpisy/predpisy/dokumenty/L/L-2/data/effective/doplX.pdf (Czech language only)
Supplement X to the L2 regulation contains rules for unmanned systems (UAS, drones) operations.
---
Civil Aviation Authority
Safety campaign:
www.caa.cz/bezpecnostni-vzdelavaci-kampan-zamerena-na-problematiku (Czech language only)
Umanned aircraft:
www.caa.cz/letadla-bez-pilota-na-palube (Czech language only)
FAQ:
www.caa.cz/letadla-bez-pilota-na-palube/provoz-ostatnich-letadel-bez-pilota-na-palube (Czech language only)
---
AIP CR - Arrangements for Particular Non-Standard Types of Flight
AIP CR, ENR 1.1.11.1: lis.rlp.cz/ais_data/aip/data/valid/e1-1.pdf
---
The Office for Personal Data Protection
Position on processing of personal data via recordings from cameras on unmanned aircraft:
https://www.uoou.cz/en/vismo/zobraz_dok.asp?id_org=200156&id_ktg=1342&p1=1113&archiv=0