UAS (Unmanned Aircraft Systems) – drones
On this page you can find an overview of sources of information relevant to the UAS operation (drones) in the airspace of the Czech Republic.
---
Geographical Zones
Pursuant to Commission Implementing Regulation (EU) 2019/947 of 24 May 2019 on the rules and procedures for the operation of unmanned aircraft, (Article 15 Operational conditions for UAS geographical zones, point 3), geographical zones for UAS are published in digital format.
Currently published zones can be found here.
---
DronView - web application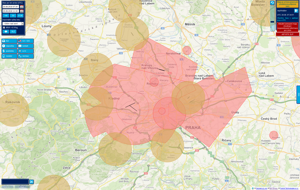 A special module of the AisView web application, a practical tool of AIM ANS CR, for pre-flight preparation, intended for operators and pilots of unmanned aircrafts (UAS, drones).
DronView serves primarily to be familiar with the organization of the airspace of the Czech Republic and for flight planning in the part of the airspace, where the operation of drone is possible.
In addition to guaranteed information in terms of airspace management and its planned use, the application enables the display of complex data intended for the needs of civil aviation, including meteorological data.
When using the application, please pay special attention to the following:
appropriate setting of the filters of the intended height of operation and weight of the drone (the setting is related to the applied operating restrictions)
correct entry or interpretation of altitude (AGL – height above ground level, AMSL – altitude above mean sea level)
correct setting or interpretation of flight time or series of flights (time given in UTC - Coordinated Universal Time)
WARNING: The information obtained using DronView in DO NOT replaces the Operational authorizations issued by the Civil Aviation Authority!
Terms of use of the AisView application
Létejte zodpovědně
www.letejtezodpovedne.cz (web only in Czech language so far)
"Létejte zodpovědně" is an educational project of Air Navigation Services of the Czech Republic for Czech citizens to get overview about drone operations without need to read EU legislation and regulations.
You can also find us on social networks:
---
Public decree - General measure
The Civil Aviation Authority, in agreement with the Ministry of Transport, has issued general measure, laying down additional conditions for all types of unmanned aircraft operations under the scope of Commission Implementing Regulation (EU) 2019/947 with effect from 31 December 2020. These are, in particular, operations in the vicinity of airports, in special areas (dangerous, restricted, prohibited, etc.), in densely populated areas and in protection zones of selected areas, infrastructure or buildings.
The operating rules laid down in this general measure apply only to the operation of unmanned aircraft and aircraft with a pilot on board are not affected by this act.
The conditions set out in this general measure will continue to be subject to further discussion and it is assumed, that they will be further modified and changed in the future.
---
Civil Aviation Authority
Umanned aircraft:
www.caa.cz/en/flight-operations/unmanned-aircraft/
---
AIP - Arrangements for Non-Standard Flights
AIP, ENR 1.1.11.1: lis.rlp.cz/ais_data/aip/data/valid/e1-1.pdf
---
The Office for Personal Data Protection
Opinion on the processing of personal data recorded by cameras on drones:
https://www.uoou.cz/files/stanovisko_2013_1.pdf