For Prague Airport provided by

The CrewPortal is a new website for aircraft operators and pilots operating to/from Prague Airport (LKPR/PRG). It provides realtime AIP SUP, NOTAM and MET information. In the near future a hotspot map or CDM data can be added.
A free WLAN cah-guest or prg.aero-free is available to pilots in PRG on all APRON stands. It allows to access this site and check the latest NOTAMs and AIP SUPs effective for LKPR from the cockpit during a turn-round in PRG.
Feedback, comments, ideas for improvements or bug reports can be sent to safety.manager@prg.aero.
NOTAM – LKPR
In force or known to come into force from 30 SEP 2022 13:04:02 to 1 OCT 2022 13:04:02
A1126/22
Q) LKAA/QMXLC/IV/M/A/000/999/5006N01416E005
A) LKPR
B) 2209301200 C) 2210240800
E) TWY H CLSD BTN TWY L AND STAND 57.
TWY H1 CLSD BTN TWY H AND STAND 27.
TWY F CLSD BTN TWY L AND TWY H1.
DE-ICING AREA 5 CLSD. 
POSITION PUSH 1,2,3,4,5 ON TWY H1 CLSD FOR ACFT PUSH-BACK.
WIP. DAY AND NIGHT MARKING
A1083/22
Q) LKAA/QMXLT/IV/M/A/000/999/5006N01416E005
A) LKPR
B) 2209190600 C) 2211301500
E) TWY D BTN TWY L AND TWY J USABLE FOR ACFT WITH WINGSPAN MAX 69M.
TAXIING FROM TWY L IN DIRECTION TO TWY G RIGHT TO TWY D USABLE FOR
ACFT WITH WINGSPAN MAX 52M. WIP
A1072/22
Q) LKAA/QCAAH/IV/B/AE/000/999/5006N01416E005
A) LKPR
B) 2209151030 C) 2210292359
E) HOURS OF OPERATION RUZYNE RADAR 119,010 AND RUZYNE RADAR/RUZYNE
INFORMATION 118,310 DLY 0600-1900
A0904/22
Q) LKAA/QATXX/IV/NBO/AE/000/999/5006N01416E005
A) LKPR
B) 2208081321 C) 2211092359EST
E) VFR, MIXED FLT AND IFR FLT TRAINING ACTIVITY WITHIN CTA1
PRAHA AND TMA PRAHA - DUE TO REDUCED ATC CAPACITY FOLLOWING
RESTRICTION ARE APPLIED:
1. ENTRANCE TO CTR RUZYNE WILL BE ALLOWED FOR LDG AND DEP AT/FROM
LKPR OR CTR RUZYNE ONLY. DELAYS MAY BE EXPECTED. 
RESTRICTION WILL NOT BE APPLIED FOR ACFT IN EMERGENCY, HEMS, SAR,
POLICE, MIL AND CALIBRATION FLT
2. PILOTS INTENDING TO CHANGE OF VFR TO IFR RULES WITHIN CTA1 PRAHA
MUST BE COORDINATED WITH FIC PRAHA TEL +420 220374393 AND APP PRAHA
TEL +420 220374548 BEFORE DEPARTURE
3. IFR FLT TRAINING ACTIVITY WITHIN CTA1 PRAHA AND TMA PRAHA WILL NOT
BE ACCEPTED EXCEPT FLT ADES/ADEP LKPR COORDINATED IN ACCORDANCE WITH
AIP ENR 1.1.11
MET Information – LKPR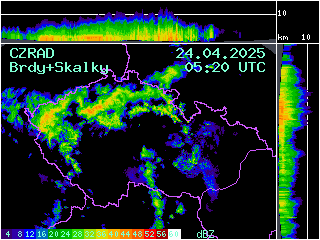 Click to view large radar image
TAF
TAF LKPR 301100Z 3012/0118 VRB02KT 9999 SCT027 BECMG 3014/3016 13005KT BECMG 3020/3022 20006KT BECMG 0100/0102 5000 BR NSC PROB40 TEMPO 0103/0107 0800 FG BKN002 BECMG 0107/0109 21010KT CAVOK TEMPO 0109/0118 24016G30KT 7000 SHRA BKN025=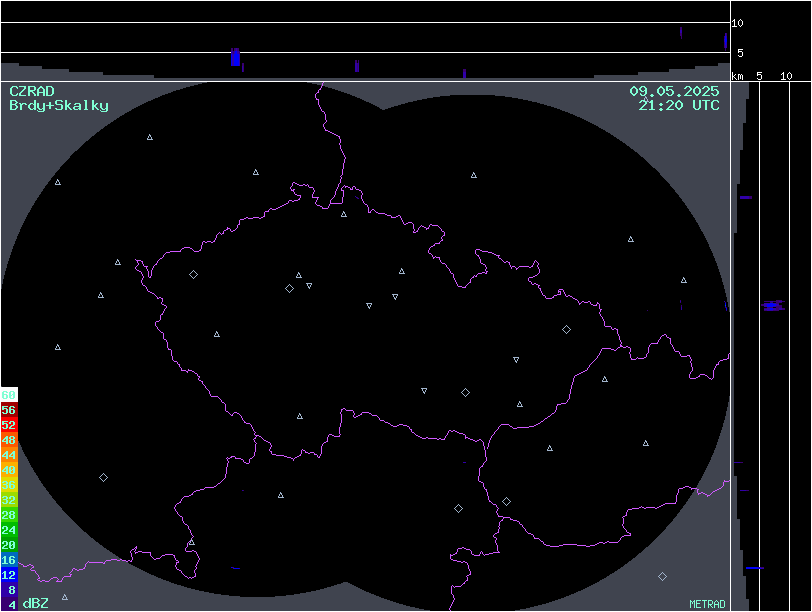 ATIS LKPR
GOOD AFTERNOON RUZYNE ATIS
KILO
AT 1300
ILS APPROACH
RUNWAY IN USE 24
TRL 70
METAR LKPR AT 1300
WIND VARIABLE 2 KNOTS
VISIBILITY 10 KILOMETRES OR MORE
CLOUD FEW 3 THOUSAND 7 HUNDRED FEET
TEMPERATURE 14
DEWPOINT 6
QNH 1012
NOSIG
FOR START UP AND ATC CLEARANCE CONTACT RUZYNE DELIVERY 120.060
YOU HAVE RECEIVED ATIS KILO

Prague Airport Leaflets